Activities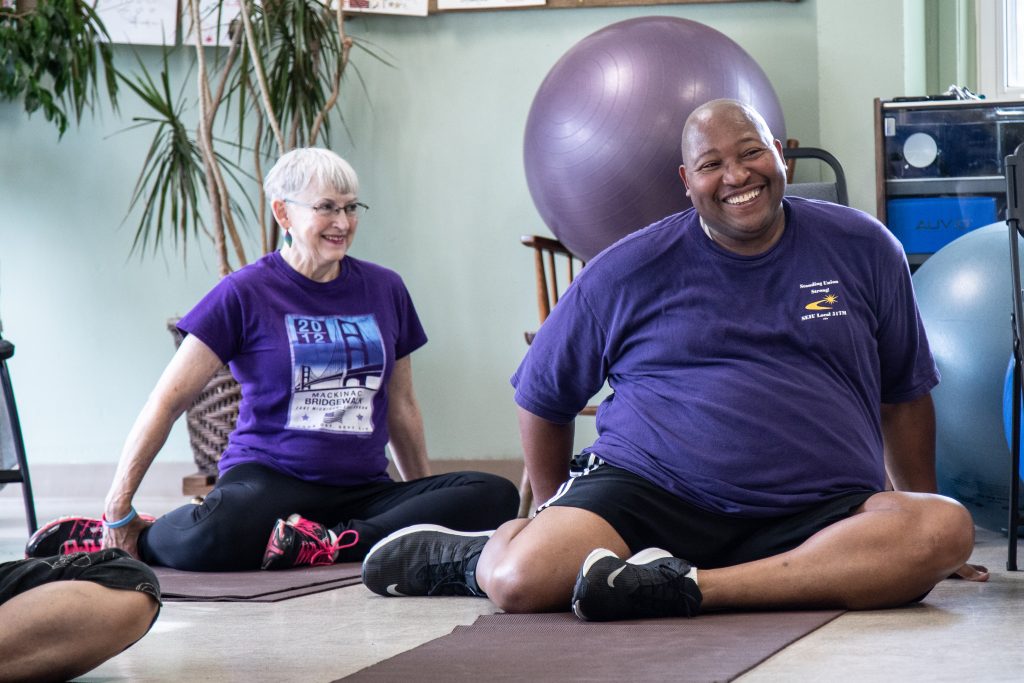 A wide range of activities are offered to seniors at the Center five days a week. Fitness classes – including yoga, line dancing, and general exercise – are designed especially for those 55 years of age and older, and medical specialists including massage therapists and acupuncturists offer appointments on site.  Classes are held weekly on art and writing, and there are groups for various crafts such as knitting and quilting.  Lively games of Euchre and Bingo are held weekly for those who are seeking some friendly competition!
In addition, the Center offers a tasty and nutritious lunch each weekday for a small donation.  Programs on educational topics important to seniors are often presented at this time, providing a "Lunch and Learn" environment.
The Ypsilanti Senior Center also offers activities for key segments of the senior population and their loved ones.  For example, the "We Care Connect" Memory Café provides an opportunity for those living with memory loss and their caregivers to come together in a supportive and safe environment.
FITNESS
Exercise with Mark: Join Mark and the group on Mondays and Fridays at 9:30 AM and Wednesdays at 9:00 AM. This fun and engaging class will assist individuals to improve balance, strength, flexibility, and cognitive capabilities through various exercises. Arrive early to secure a space!
Line Dance: Here is another opportunity for individuals to include physical activity into your weekly schedule.  No experience is required. ALL are welcome.
Gentle Fitness: Have fun in this low-impact workout session that is designed to be easier on body and joints.  Join us Wednesdays and Fridays at 10:45 AM.
HEALTH
Take advantage of the additional services offered here at the senior center for a small fee with great results by these awesome certified individuals.
Acupuncture with Ron: Scheduled on Mondays from 10:30 AM – 12:30 PM. Please be advised that in order to receive the maximum benefit from treatment, it is recommended to arrive no later than 11:45AM. The fee is $15/session.
Norwegian Massage with Sissel Bridges: Schedule an appointment at 734-340-3766 on Fridays, bi-weekly. The affordable fee is 11 Minutes for $12, 30 Minutes for $24, 45 Minutes for $36, OR 60 Minutes for $48.
Visiting Foot Nurse, Robbi Duda, comes one Tuesday per month. Please call to schedule your appointment at 734-741-8586
ART AND GAMES
Writers Group: This is an opportunity for writers of ALL skill levels to explore different writing genres, build confidence, collaborate with others, and promote a passion for creative writing. Writing assignments are according to a topic selected by participants. Come and meet with the group each Wednesday from 10:30 AM – 11:30 AM.
Bingo: Come join this lively group each Wednesday at 12:30 PM. Bingo is a great game! Each card is $1 and .25¢ for additional cards. Maybe you'll get lucky!
Euchre: The group welcomes new participants and meets Mondays at 12:30 PM.  The cost is ONLY 50¢.
Art for Everyone: Wednesday at 12:30 PM. Join us to see what beautiful art you can make.
Knitting and Crocheting: This group is growing beyond leaps and bounds! Anyone who wants to knit or crochet or learn how should come on Tuesdays from 12:30 – 2:00 PM.  All are welcome, from newbies to experienced craftpersons.
Visit the Calendar page for a current schedule.
Lunch Reminder!
You are responsible for signing yourself up for lunch.  To all current and new lunch participants, to ensure an accurate count for meals are ordered in a timely manner, please sign up on the days you would like a meal for the upcoming week. Meals are ordered every Thursday morning by 11:00 AM. After this time, we are unable to place additional orders. We are asking for your assistance to ensuring your name is placed on sign-up sheet(s).